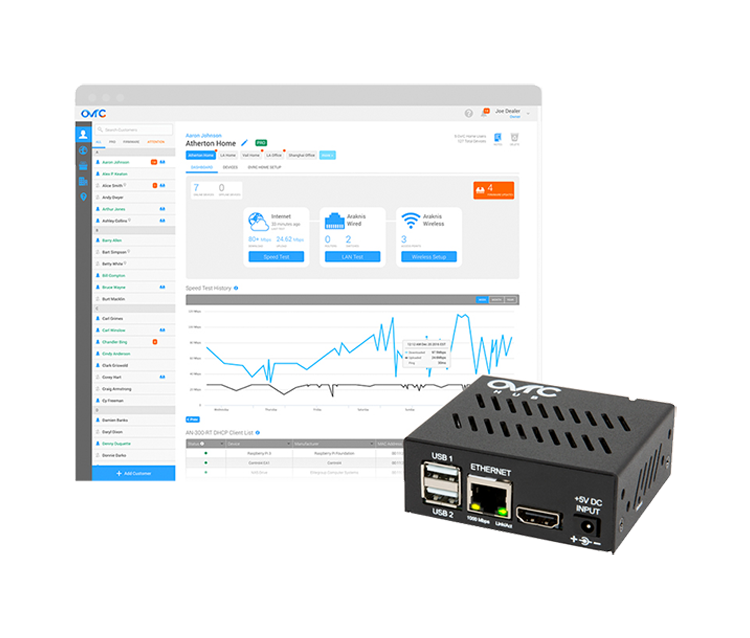 Global reach, local expertise.
Monitor your network's power anywhere, anytime. Don't worry about the install, we've got it covered.
Get access to the Location Dashboard view, which displays a quick snapshot of a location's system health for vital troubleshooting clues.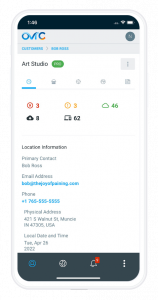 Device Status – View the number of online and offline devices, including SnapAV products and any Hub-found devices you choose to monitor.
Firmware Updates – See available firmware updates for SnapAV products.
Network Tools – Run an ISP internet test manually, check the latency of all products on the network, or quickly set up a new Araknis WAP SSID.
ISP Internet Test History – View ISP performance over time.
Built-in Network Diagnostic tools allow you to better recognize ISP speed trends and understand the source of the network latencies, to identify whether the issue is internal or external.
ISP Internet Test – Run manually or automatically on a schedule to see trends. Measures download speed, upload speed, and latency. We leverage Ookla's latest Speedtest.net technology to derive results.
Traceroute Analysis* – View the communication path from the Hub to any service or device inside or outside the network, along with the response times between hops. This helps determine the source of network latency (internal or external).
Ping Test – Ping IP addresses on the network to see device response times and packet loss on the local network.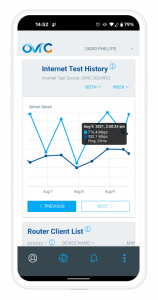 Once installed, the OvrC Hub automatically finds all IP devices on the network, relaying relevant device information to OvrC and regularly pinging their online status.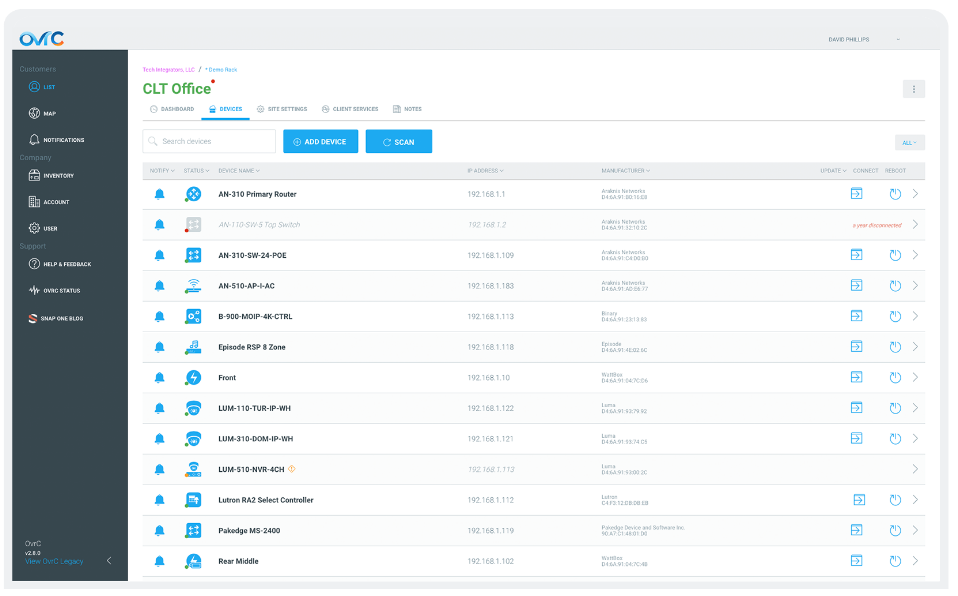 General Device Information – View device name, online status, MAC & IP address, manufacturer, latency, first seen and last seen time stamps.
Open Ports and Services – Scan available ports and the associated services, including HTTP, HTTPS, Telnet, SSH, and any other port/service combination that you define.
Multiple VLANs Support – Set up the Hub to scan and monitor IP devices across multiple VLANs. With the click of a button, you can designate specific devices to monitor. If the Hub doesn't receive a ping response from a device within 10 minutes, you'll be notified.
Online/offline Notifications – Receive email and push notifications when the device you are monitoring goes online or offline.
Advanced Remote Access Devices
The Hub automatically scans available ports and the associated services on devices and makes them accessible with a click of a button, all without port forwarding, VPN, or any other network setup.
Web Connect (HTTP/HTTPS) – When available, securely access the local web UI of any supported device remotely for deeper configuration and control.
Console Connect (SSH, Telnet) – Establish a secure SSH or Telnet connection to any supported device for enhanced diagnostics and troubleshooting.
Product-Specific Capabilities – Additional information and capabilities are available for a growing list of non-SnapAV products (see Product Integration section).
Application Protocols – Establish a raw socket connection through any port on your device and third-party software through a secure URL. Examples include: connecting to a computer onsite using Remote Desktop Protocol (RDP) or VNC, programming Crestron devices, accessing RTSP/H264 video streams, or any other single-port application. For any of these non-standard ports, you must configure the Hub to scan the specific port. See the Videos tab to learn how to do this.